TV Schedule
Please check your local TV schedule to confirm times and channels in your area.

     Watch our programs on YouTube at any time.
SCAN-TV has its very own You Tube Channel where you can access any of our past- produced or currently airing programs at your convenience.  Each month, on the 1st Tuesday of the month, brand new SCAN-TV programs are uploaded for your viewing.
To access SCAN-TV, please go to:  https://www.youtube.com/user/ScanMonmouthCounty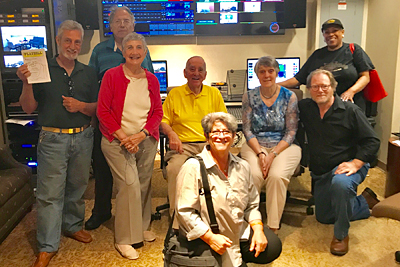 CABLEVISION
Monmouth & Ocean Counties- Ch. 77 Tuesdays @ 8PM-9:30PM
Keyport – Ch.15 Tuesdays 5:30PM-7PM
Ocean Township – Ch. 77 Tuesdays @ 7:00PM-8:30PM
Brookdale Community College 
SCAN Programs can viewed on Brookdale Television (BTV) on Comcast Channel 21  and Verizon FIOS Channel 46 throughout most of central New Jersey.
Welcome to SCAN: Everyday at 6:30 am, 2:30pm, and 10:30 pm
Community  Connections: Tues, Thurs, Sat  at 2:30am, 10:30am, and 6:30pm
COMCAST
Monmouth County- Ch. 97- Thursdays @6:30PM-8PM
Ocean County- Ch.97- Mondays @ 6:30PM- 8PM
Toms River- Ch.19- Mondays @ 7:30PM-9PM
Long Branch- Ch.20- Every evening @ 6PM-7:30PM
VERIZON FIOS
Check local FIOS listings for airtimes of SCAN TV shows, but you can always watch our programs on YouTube
Ocean County Community College
Ocean County Community College airs SCAN-TV's "Caregivers First" at the following times on Channel 20.  Ocean TV-20 operates daily on Comcast of Toms River and Long Beach Island, Channel 20, and Verizon FiOS in Northern Ocean County, Channel 24.
Fridays at 12:30 pm
Sundays at 5:30 pm
Shows are aired in this sequence during each time block: Welcome to SCAN, Caregivers First, and Community Connections. (*starting in September 2017)
If you would like to be a guest on one of our SCAN-TV programs or submit an idea for a show topic, please contact us at

[email protected]

or call at 732-542-1326.  We are interested in providing timely and important information for active adults in Monmouth and Ocean Counties.
TV Show Descriptions
​Welcome to SCAN:  Tracey Wolfman, Owner of We Care Adult Care, hosts this show that provides general information on all aspects of topics that are of particular interest to the senior population as well as information about SCAN Education and Resource Center.
Community Connections: Thomas Hayes, Director of Customer and Community Relations for NJ Natural Gas Company, hosts this show that provides a communications portal through which a wide range of organizations, governmental agencies, individuals and businesses can share their wealth of knowledge and experience.
All SCAN TV shows can be watched on our YouTube channel.
To learn more about your Hosts and the Studio Director, please click here
NOTE: Our TV shows are also seen in many communities on FiOS keyed to the schedule of Aberdeen (CH 45) and also Ocean Township (CH 22)