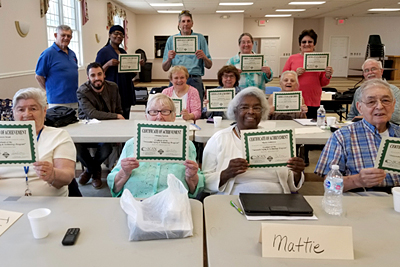 SCAN (Social Community Activities Network) is a non-profit adult social education and resource center founded in 1988. The name reflects the action-oriented profile of members and the vibrancy and social networking strength of the organization. SCAN programs sustain independence, health and happiness among people fifty years of age and older in Monmouth and Ocean Counties. SCAN itself is a place where Active Adults meet to be Informed, Empowered and Inspired. SCAN provides an active support system for those over the age of 50. SCAN uses education and technology to create an environment where the aging population can continue to grow intellectually as well as physically and emotionally, thereby allowing older adults to thrive – not just survive.
SCAN's programming falls within four Divisions:
SCAN at the Mall includes the Monmouth Mall location where social education classes and information and referral services are provided
SCAN in the Community (SCAN on Wheels) brings our high impact programming directly into underserved communities in Monmouth and Ocean Counties.
Multimedia Division includes our three cable TV shows which can also be seen on our YouTube channel, our social media, and our weekly radio show – live on Friday mornings at 8:30am and repeated Tuesday evenings at 7pm – called SCAN's Community Connection, aired on Good News Radio 88.1FM.
Caregivers First, our newest division, is entirely devoted to the specific needs of Caregivers.
SCAN – Your Charity of Choice.  Please click here to download SCAN's Annual Report.
Click here to find out more about SCAN in Guidestar