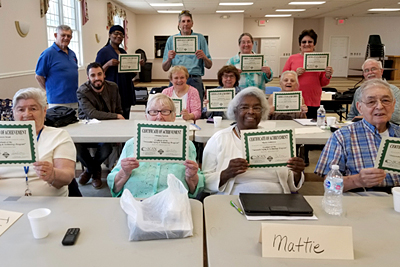 SCAN (Senior Citizens Activities Network) is a non-profit keeping seniors active, healthy and connected since 1988. The name reflects the action-oriented profile of members and the vibrancy and social networking strength of the organization. SCAN programs sustain independence, health and happiness among people fifty-five years of age and older in Monmouth and Ocean Counties.
SCAN's programming falls within four Programs:
SCAN at the Mall includes the Monmouth Mall location where social education classes and information and referral services are provided
SCAN in the Community brings our high impact programming directly into underserved communities in Monmouth and Ocean Counties.
SCAN-TV includes our 2 cable TV shows which are filmed on site in our TV Studio and can also be seen on our YouTube channel. The TV Studio is available for rental. Call SCAN for more information.
Benefit Enrollment Center (BEC) connects Medicare beneficiaries and disabled adults of limited income to the benefits they may be entitled to receive. These benefits can represent a savings of hundreds of dollars each month.
Learn more about SCAN by viewing our Annual Report and Guidestar Rating.