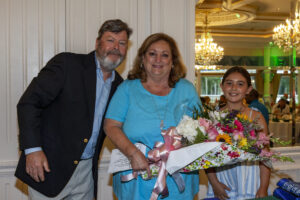 SCAN Executive Director, Mike Ciavolino with Golf Committee Chair, Adrienne Nittolo and her granddaughter Emilia O'Such.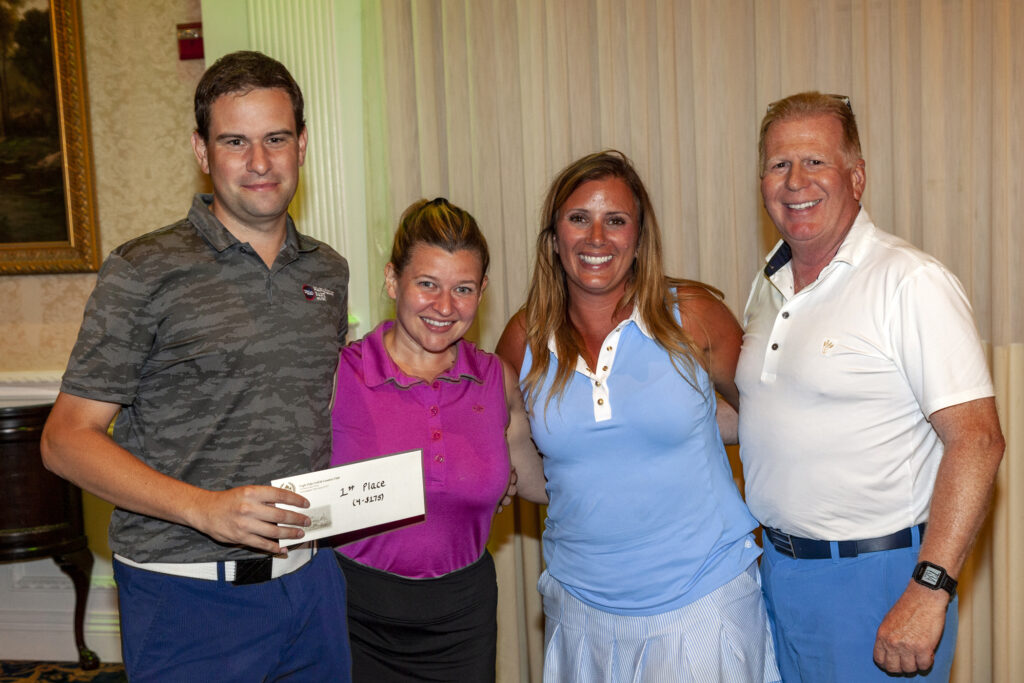 Taking home first place for the lowest score in the SCAN First Annual Golf Classic were the team from Lunch Sponsor, Manasquan Bank. Pictured (l to r) are Manasquan Bank employees Nick Martin, Katie Meyers, Jennie Piperi and Bob Hart.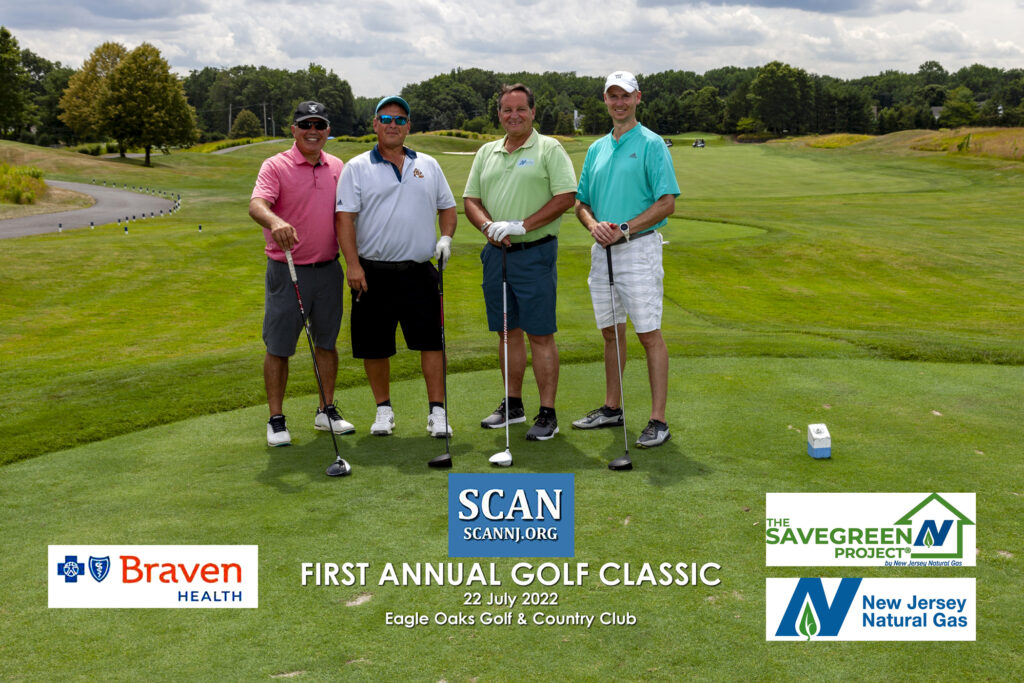 Golfers from Tournament Sponsor New Jersey Natural Gas including SCAN Founding Board Member Tom Hayes (3rd from left) enjoying the 1st Annual SCAN Golf Classic at Eagle Oaks.
The Senior Citizens Activities Network (scannj.org) a non-profit 501©3 organization dedicated to serving people 55 and older in Monmouth and Ocean Counties, raised over $50,000 at their first annual Golf Classic.
The event was held on Monday July 18th at the fabulous Eagle Oaks Country Club in Farmingdale, NJ. Eighty-four golfers enjoyed a gourmet BBQ lunch before playing in the afternoon shotgun scramble format, traversing the only Jack Nicholas designed golf course in New Jersey.  During the round, golfers participated in the $5,000 putting contest, the Pebble Beach Hole-in-Two challenge and the Million Dollar Shoot Out, while enjoying complimentary cocktails from the Tito's Handmade Vodka Tent and hand rolled cigars from Señor Juan's Cigars, of Belmar, NJ.
Following golf was an open bar cocktail reception, dinner and a charity auction featuring many unique offerings such as Golf experience vacations, premium liquor, sports tickets and memorabilia. The evening reception was attended by over one-hundred and twenty guests including golfers, SCAN corporate sponsors and staff, volunteers and local dignitaries.
"We're very grateful to our golfers, sponsors, volunteers, SCAN Board members and our amazing golf committee, who worked tirelessly to make this event happen," said Adrienne Nittolo, Committee Chair for the event.  "I'm extremely proud of how everyone worked together to provide the golfers and attendees with a first-class experience."
The First Annual SCAN Golf Classic was sponsored by New Jersey Natural Gas, The SAVE GREEN Project, Braven Health, Manasquan Bank, Hackensack-Meridian Health, Imperial Healthcare, Alcoeur Gardens, Beacon Of Life, Artis Senior Living, Laurel Bay Rehab, Stilwell-Hanson, Senior Moments Medicare Solutions, Georgian Court University, Encompass Health, Chris Tubby, Harrogate, Inc., Levin, Furman and Rubin, Garden State Trust, GRANTvest Financial Group and All is Sharp photography. Special thanks to Mike Nittolo and Investors Bank for sponsoring player golf shirts and warm-up jackets.
"The proceeds from this event will go towards supporting even more seniors in Monmouth and Ocean Counties with our free and low-cost programs, classes and workshops," said Mike Ciavolino, Executive Director of SCAN. "We'll also be able to serve more of the area's most vulnerable and neediest seniors through our Benefit Enrollment Center. On behalf of everyone at SCAN, we greatly appreciate the support of everyone who participated in SCAN's First Annual Golf Classic."
The 2nd Annual Golf Classic will be held at Eagle Oaks Country Club on July 17th 2023. For more information, contact SCAN at https://scannj.org/scan2023golf/.